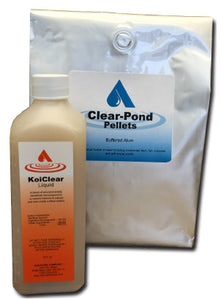 Koi Kit
Regular price
$99.00
$0.00
Koi-Kit contains one pint of KoiClear Liquid along with one 5 lb. bag of Clear-Pond Pellets for season long pond control.
Use both products to restore balance in ornamental Koi and goldfish ponds. Works equally well in natural and man-made ponds.
Begin treatment early spring when water temperature is 40 degrees or warmer.
Apply 1.6 oz. of KoiClear Liquid and 1 lb. Clear-Pond Pellets per 10,000 gallons of pond water.
Continue to apply KoiClear Liquid weekly for 4 weeks then monthly to maintain. Use Clear-Pond Pellets as needed.
Great pond maintenance option!
Both products are a safe, natural way to provide your pond with a healthy balance.
KoiClear Liquid will consume excess nutrients in water and bottom sediment. Quickly and thoroughly consumes fish droppings, excess food and dead weeds. Clear-Pond Pellets will reduce pond productivity and improve water quality.
Neither product will affect live growth.
Water treated with KoiClear Liquid and Clear-Pond Pellets has no water use restrictions.