• 2 4-D • aquacide pellets • Cattail Control • Cattail Removal • Cattails • glyphosate • Kill Cattails
A customer recently contacted us regarding Cattail control and Cattail Removal. Below is his question and our response. Question: I have about a ¼ acre pond with an average depth of 4 feet and a significant amount of cattails.  The pond was established about 13 years ago and has a significant population of fish: mostly bass and blue gill.  Each year I have "gloved-up"  and dug through the mud to pull up the root systems for cattail removal, but this past year I skipped and the weeds are winning!  Do you have a product that will target the Cattails without...
---
• Aquacide Pellets • aquaneat • aquatic weed control • Broadleaf Cattail • Cattail Control • Common Cattail • Kill Cattail • shore klear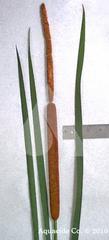 It is generally not a good rule of thumb to place any type of aquatic vegetation into a private lake or pond.  However, Common Cattails are one of the species that can be utilized, carefully, to add dimension to the water body.  Because of the thick root system and dense growth of Cattails in general, they are a great type of erosion-control.  Cattails also provide great habitat for waterfowl, especially wood ducks. Several species of birds also use Cattails as a perch, and Cattails provide habitat for other aquatic animal life as well as cover for small fish. Although there...