• 2 4-d • Aquacide Pellets • Aquatic Herbicide • Aquatic Weed Control • Aquatic Weed Killer • Bladderwort Control • Bladderwort Identification • diquat liquid • Fluridone • Lake Weeds • Water Weed Control • Water Weed Cutting • Water Weed Raking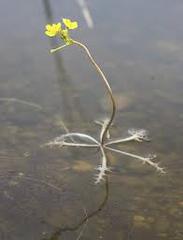 Bladderwort is a free-floating, fresh water, carnivorous lake weed with over 200 species located throughout the world. Bladderwort is usually found in quiet, shallow, bog-like acidic waters. The main stem has 4-10 delicately branched lateral leaves that give it a very lacy appearance. The main part of the weed lies beneath the surface and will go unnoticed until it rises to the surface in the late Spring early Summer. Once at the water surface the weed sends up small attractive yellow flower. This flower has lip-like petals that resemble Snapdragons. Bladderwort is named for its tiny bladder-like structures located throughout its branched...
---
• Curly Leaf Pondweed • Curly Leaf Pondweed Control • Curly Pondweed • curly pondweeds • diquat • endothol • fluridone • invasive curly pondweed
Curly Leaf Pondweed is a perennial weed that is native to Europe.  It escaped into American waters in the late 19th century and was first noticed in Minnesota in 1910.  Curly Leaf Pondweed was found in most of the United States by 1950.  It gets its name from the oblong rippled (curly) submersed leaves.  Leaves are serrated and alternately placed, typically 3" long with a reddish mid-vein.  It has annual burr-like winter buds (turions) and small reddish-brown fruit. Curly Leaf Pondweed has a unique life cycle.  In early spring, Curly Leaf Pondweed is one of the first weeds to appear...
---
• 2 4-d • AquaClear Pellets • Aquatic Weed Control • Cabomba • Eurasian Milfoil • Fanfort • Fluridone • muck sediments • Starry Stonewort
An invasive aquatic plant known as fanwort is an exotic beautiful plant that poses significant threats to inland lakes. Fanwort is native to South America, it is a popular aquarium plant and is thought to have been brought to the United States through the aquarium trade.  It's identified by intricate fan shaped leaves and white-pink floating flowers.  It is a highly aggressive and invasive plant that can rapidly force out native aquatic plants and readily form monocultures in depths up to 3 feet.  It is unknown how it spreads. There is one active ingredient know to be effective called furidone.  The...
---
• aquatic herbicide • aquatic herbicides • aquatic weed control • duckweed • Duckweed Control • Fluridone • Harvester Liquid • Lake Bacteria • Lake Muck • pondweed identification • watermeal
Duckweed and Watermeal are free floating pond weeds that are found in wetlands and nutrient rich stagnant water. They are often mistaken for algae. Pond weed identification can be done by recognizing its small, round floating "frond" or leaf. Duckweed frond has hanging roots and is roughly the diameter of a pencil eraser. Watermeal has no roots and looks like floating grass seed about the size of a pin-head. Duckweed and Watermeal reproduce by budding on the margin or base of the frond. Each frond can only do this a limited number of times before dying. Both survive freezing and...