• Algae Control • Aquatic Weed Control • Filamentous Algae • Inert Dye • Lake Rake • Natural Bacteria
    4 Ways to Get Rid Of Your Algae   The most common lake weed problem is Filamentous Algae.  Filamentous Algae, also called "lake moss" or "pond scum", form dense mats of strands.  Filamentous Algae is often a persistent problem because it reproduces rapidly by fragments, spores and cell division.  Abundance is dependent on nutrient levels, particularly phosphorous, in the water.  High levels of nutrients result in increased amounts of algae.  Its presence can degrade water quality and recreational enjoyment.  Excessive algae can cause oxygen depletion when it decomposes, as a result of natural die-off or an algaecide application.  This...
---
• Algae Control • AquaClear Pellets • aquatic herbicides • glyphosate • Lake Muck
"It has been over 1 week since I sprayed…There is absolutely no weeds and algae floating around! Thank you for the direction on this." S., Edinburgh, IN Question two in the Q+A Series is recent correspondence from a customer that initially wanted to remove dead weeds and "muck" on the bottom.  Beneficial pond bacteria is an excellent option. Along with the "muck" the same customer wants to control Water Willow and Algae. Question #2- Can we spray those aquatic weeds now or wait until we get our coldest weather and hope that they die down, then spray as they begin to come back?...
---
• Algae Control • Aquacide Pellets • Cutrine Plus Liqiuid • Lake Muck Removal • shore klear • Water Willow Control
Water Willow Control Q&A Series Over the next few weeds I will be posting a series of Questions & Answers from the recent email correspondence from customers. Question #1:   If I get the Cutrine-Plus Liquid and AquaClear Pellets will that control my grasses too?  I think we have Water Willow; do we have to spray with something else Answer #1: Cutrine-Plus Liquid is an excellent option for controlling most varieties of algae including filamentous algae, Chara algae and planktonic algae.  Cutrine-Plus Liquid will not kill lake weeds or pond weeds.  Aquacide Pellets are a systemic option for early spring control when new Water...
---
If home, you must be worried about keeping it clean and crystal clear. . So here in this article we are going to tell you the methods in which you can easily perform Algae control in Ponds. So let us begin: Altogether there are four major methods in which you can do Algae control in Ponds. Using the right method for the particular problem will definitely give you results and keep the balance of the pond healthy. So let us start with the four important methods and the fifth one is an add-on. Scroll down to check out: Algae control...
---
• Algae Control • Beneficial Bacteria for a Lake • Beneficial Bacteria for a Pond • Dissolve Lake Muck • Dissolve Pond Muck • How to Clean a Pond • Lake Sediment Removal • Natural Bacteria • Pond Clarifier • Pond Cleaning • Pond Muck • Pond Muck Removal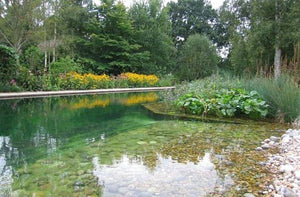 Pond and Lake Front Cleaning Tips from the Experts.