• Pond Muck • Pond Muck Removal
Pond muck is considered to be the accumulation of all kinds of wasteful substances such as fish waste, decaying plants as well as other organic materials which end up accumulating at the very bottom of the pond. Over time, this sludge can build up into inches or even feet and become thicker and denser, thereby becoming a home for all kinds of leeches and worms as well as a smelly dirty place to swim. Muck also includes the accumulation of materials such as leaves and branches of trees, clippings of the grass, dead and decaying aquatic weeds, fertilizers as well...
---
• Algae Control • Beneficial Bacteria for a Lake • Beneficial Bacteria for a Pond • Dissolve Lake Muck • Dissolve Pond Muck • How to Clean a Pond • Lake Sediment Removal • Natural Bacteria • Pond Clarifier • Pond Cleaning • Pond Muck • Pond Muck Removal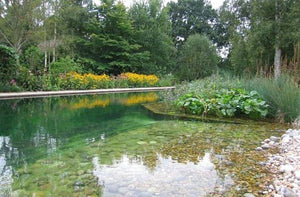 Pond and Lake Front Cleaning Tips from the Experts.