• How to Clean a Pond • Pond Cleaning • Pond Weeds
Almost all pond owners may encounter the undesired different kinds of all weed that grow in the ponds out of nowhere. A few of the weeds do not cause a problem. But when there growth and population goes out of control, the weeds limit sunlight, which fails to reach the aquatic fauna and flora. The weed also utilizes the pond oxygen so that other species, including fish, become deprived of it. Presence of invasive species and weeds in excessive proportions may render the pond unusable for activities like boating and fishing. Some weeds are more common. For instance, the cattails...
---
• How to Clean a Pond • Pond Cleaning • pondweed control
A pond is a living ecosystem that contains bacteria, plants, fish and other life forms as well. Apart from an algae bloom, unclean water may also be caused by organic and decaying matter, clay, dirt, debris, animal feces, and other contaminants and undesired materials. You would not like your pond water to be unclean as it will also deteriorate the looks of your farm or home and will also harm aquatic life. When you want to have clean pond water and wish that it stays clean, you have a number of natural methods (in the form of biofilters, plants, and...
---
• How to Clean a Pond • Pond Cleaning
Order AquaClear Pellets dissolve Muck/Sludge Lake fronts and often ponds become very murky during the spring and early summer season. After a long winter with no filtration, the ponds generally gather fine particles that float on the water as well as more muck and sludge at the bottom, thereby causing murky brown cloudy water. These fine floating particles are usually small enough that they can pass through a number of pond filters so that the water in the pond can remain cloudy for some time. Pond cleaning is not a hassle-free process. If you practice it step by step using fair...
---
• How to Clean a Pond • Pond Cleaning
If you have a pond or lakefront property, then you must know that it is not very easy to maintain. At the same time, maintaining the waterfront recreational area is not all that difficult either. Generally, your pond gives you important signs which signal to the fact that it requires a good cleaning of the muck that has built up in the pond over months or years. When you walk into the water and sink into the muck/dead vegetation, you can smell a rotting odor and or the water is cloudy and murky looking are all indications that it may...
---
• Algae Control • Beneficial Bacteria for a Lake • Beneficial Bacteria for a Pond • Dissolve Lake Muck • Dissolve Pond Muck • How to Clean a Pond • Lake Sediment Removal • Natural Bacteria • Pond Clarifier • Pond Cleaning • Pond Muck • Pond Muck Removal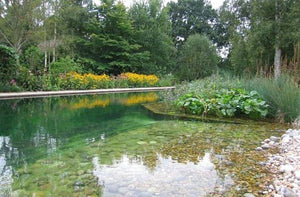 Pond and Lake Front Cleaning Tips from the Experts.